Clip Close Dog Coats
clipdogcoats
Clip Close Dog Coats clipdogcoats
Quantity
minimum quantity: x available in bundles of: x Product ordered in bundles.
Clip Release Dog Coats
Colours currently available:
Red
Green
Royal Blue
Navy Blue
Wine
This range of dog coats come in sizes of 8" to 30" increasing 2" each size. They are currently available in 5 colours. All our dog coats are have a durable 4oz waterproof fabric on the outsize and are fleece-lined with an acrylic-fur fabric.
A polypropylene strap is used to secure the dog coat round the dogs waist and is fastened with a strong, side-release plastic buckle. The strap is adjustable (see the table below) for a comfortable, snug fit. The front of this dog coat has a Velcro-fastening that also allows for a lot of adjustment around the neck area, ensuring a truly customisable fit.
A dart at the back of the coat (above the dogs tail) shapes the coat to fit the dog better and helps to keep the back of the coat down under blustery conditions.
This range of stylish and practical dog coats are fully machine washable (40deg C, no iron). They are designed for quality, practicality, and durability.
Sizes
| | |
| --- | --- |
| Dog Coat Size | Belly Strap Range |
| 8" XS | 11" - 16" |
| 10" S | 13" - 18.5" |
| 12" M | 15" - 22" |
| 14" L | 16" - 24" |
| 16" XL | 17" - 26" |
| 18" XXL | 19" - 29" |
| 20" 3XL | 20.5" - 31" |
| 22" 4XL | 23" - 38" |
| 24" 5XL | 23" - 38" |
| 26" 6XL | 23" - 38" |
| 28" 7 XL | 27" - 43" |
| 30" 8XL | 29" - 46" |
Size Guide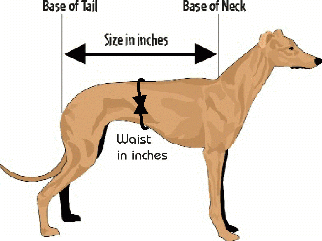 Discounts
| Minimum purchase | Discount |
| --- | --- |
| 1 + items | 16.0% |